"Good Design is good business"
It is a popular phrase but how do you make sure that you are getting a good design? There are multiple answers to this question. To be blunt about it – Good design is one which communicates instantly. Although a good design is perceived as good only when it is trendy. So here are some trends of 2018 that you can look forward to when getting your artworks designed! – "Yes please take a professional help, you just can't do it all by yourself. And it's much more than just learning few tricks on computer."
With pantone declaring ultra violet the next year's color we surely know that the trends are going to be dominated by a movement based dreamy perspective in all domains of design motion is surely a winner.. So buckle up from the Dreamy 2018 : Graphic trends.
1) Responsive logo with motion: So, if you are looking for an antonym of boring, responsive logo is the word. With more and more digital platforms and touch points springing up static logos will soon be bygones. A decluttered, minimal version of a logo will look modern, streamlined, and rid of unnecessary elements. This makes it perfect for the digital environment and mobile devices. To top this up brands have started experimenting small animation effects on the logs for the digital platforms it is one the most brilliant way for making your customer remember your brand identity.
2) Duotone & Double Exposure : Yes we have been always talking about usage of minimal colours and effects of a better looking design from past few years.. PAST FEW YEARS is the key word.. Because it is time to sun off all your limitation and experiment with double tones. Be it photography, digital expression or advertising increase the layers…
3) Chaotic rebellion: This is the year of crazy designs, experiments and wild imagination. From creating the glitch effect to everything that includes splashing, scratching, ripping off, breaking or any other form of ruining the aesthetics of a composition is considered modern in 2018. Holographs, a hallucination, a distorted reality… all of these are highly influential on the viewer which makes "Color channels" one of the top graphic design trends 2018.
4) Creative Typography : Typography undoubtedly the element which can make or break your design. Below are some of the trends which will be running in the typography coming year
Bold Sherifs – History can be a source of inspiration if you don't halo it like some diehards like to do. So get tuned to use the sheriffs again. If you've ever seen those full-page ads Ogilvy used to place in newspapers, the bold modern serif trend will strike a nostalgic chord.
A modern graphic design trend is typography tightly interacting with other elements of the composition. The achieved effect is: letters turned into real-life objects.
Negative space and Typography. What is quite popular about it, is that elements from the back come to the front through the wording. This is another form of interaction between typography and composition elements.
5)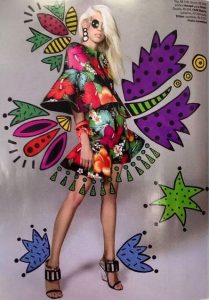 Mix hand drawing with images : Yes everyone loves illustrations, every design is a piece of art created with a lot of talent and imagination. This is why illustrations can never go out of style. But what if we mix this with real images. An interesting trend for 2018 is combining photos with digital drawing. This technique boosts the effect of the photo and brings the composition a new edgy look. For the brands which find plain photos way too boring, this is the right trend!
6) Braver colors: When the client says "It's not popping enough!" he might be right this year…" Also now using bright colors helps content stand out from meme-filled social media. So tune up your color pallet and get ready for POP!!
And further …. Minimalism will have its nich space among all the brightness and boldness. Line art will rule the packaging or new brands. Print will see more of textured backgrounds and digital paintbrush will be the call for more and more experimentation.

At Eduhive we design creative solutions, customized to the requirements but in pace with the current trends. We are constantly experimenting solutions in to be derived in combination with graphics, website and animation. Connect with us to get your solution.